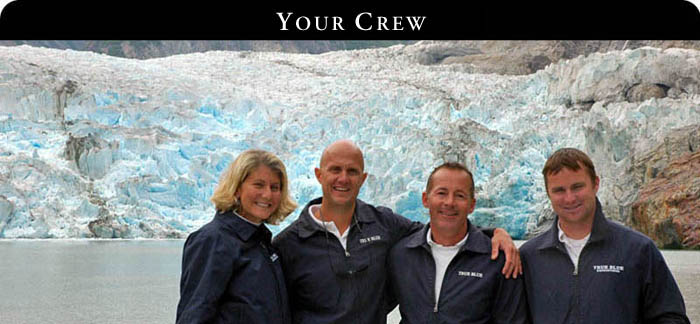 ---
Clint Cropper -

Captain


Captain Clint Cropper, Co-owner Of Yacht True Blue, Was Raised On The Waters Of Southeast Alaska. His Experience, Knowledge Of Local Waters, Boat Handling Skills And Detail To The Safety And Comfort Of His Guests And Crew Is Legendary. He Has Captained Some Of The Countrys Most Presitgous Yachts, From The Seas Of The Mediterranean To New England, From Florida To The Bahamas And Caribbean, Through The Panama Canal, And The West Coast Of The Us To The Unique And Breathtaking Waters Of Southeast Alaska. He Is An Avid Fisherman, Has An Expert Eye For Finding Wildlife, And Is A Skilled Engineer. He Enjoys Having Guests Share True Blue's Spacious And Comfortable Wheelhouse. His Love Of Alaska And Everything It Offers Is Obvious And Contagious.



Scott May -

First Mate


Co-owner Of Yacht True Blue, Scott Was Born In The Landlocked State Of Kentucky And Began His Yachting Career With Captain Clint Cropper In Florida. They Have Captained And Crewed Some Of The Country's Most Prestigous Private Yachts. Scott Is An Avid And Expert Fisherman, An Excellent Chef, A Tennis Player, Reader And Source Of Knowledge On All Things Alaska. He Has An Expert Eye For Detail Inside And Outside The Boat, And Will Do Anything Possible To Meet Every Need Of Every Guest.



Knut Christiansen -

Chef


Noted West Coast Chef Knut Christiansen Returns To Yacht True Blue For The 2008 Season. His Cuisine Is Mediterranaean Inspired With An Alaska Twist, Using Fresh And Unique Local Ingredients (think Paella, With Alaska Spot Prawns, Dungeness Crab, Salmon, Halibut And Snapper Which You Caught That Day). Knut Is An Avid Snowboarder, Traveler, Wine Enthusiast And Has A Great Sense Of Humor.



Beth Pike -

Naturalist


Originally From Cape Cod, Massachussettes, Beth Was Born And Raised On The Water And Has Turned Her Love Of The Outdoors And The Ocean Into A Lifetime Career. Beth Brings Years Of Boat Handling And Onboard Service Gained While Working For Many Years As A Naturalist And Captain On Charter Boats In Hawai'i.. She Also Spent Five Years Conducting Research On Critically Endangered Right Whales Along The East Coast Of The U.S., And Also Has Extensive Background In Marine Mammals And Ocean Ecosystems. Having Recently Completed A Master's Degree In Coastal Environmental Management At Duke University, Beth Looks Forward To Joining Us To Make Your Time In Alaska An Enjoyable, Educational, And Unique Experience.