REFLECTIONS journeys the calm, Inside Passage waters of the Southeast Alaska archipelago, between Sitka and Juneau. These waters are the richest in Alaska. World class fishing, an abundance of whales of great variety, extraordinary scenery, tidewater and mountain glaciers, waterfalls and waterfowl, unique ecosystems and stunning anchorages of solitude. Your days are flexible by nature to insure every day affords the time necessary to see and feel the depth of the Alaska experience.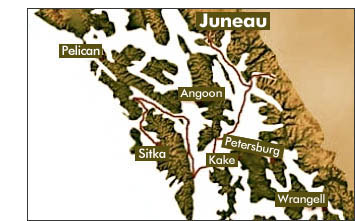 The Inside Passage is unique on our planet. The waters are pristine, rarely traveled, generally calm, rich in wildlife, abundant in fish, enhanced by glaciers and waterfalls, temperate and green, and the land full of native peoples and history. It invites exploring. Travel amongst the ice of the great Tracy Arm Fjord to the tidewater Sawyer Glaciers to witness the awesome power of calving. Hike along a powerful rushing river for a soak in a magical warm springs. Anchor in secluded bays of unimaginable beauty. Kayak and tender in search of the giant Brown Bear. Enjoy fresh caught salmon, spot prawns, crab and more. This is a journey unrivaled.


---

Here is a typical itinerary for Motor Yacht Reflections for a charter of 7 24-hour days and nights in Southeast Alaska. This can be customized with special places known to Captain Clint Cropper.

For Sitka to Juneau charters, please reverse the itinerary.

DAY 1
Downtown Juneau to Taku Harbor
Guests arrive Juneau, transportation to the yacht by Juneau Limousine Service. Should guests arrive a day early, they may consider a limo tour of Juneau to include Mendenhall Glacier. Flight sight seeing and lunch at Taku Lodge or a Helicopter/Dog sled tour. Contact Captain Clint Cropper for booking information. Depart Juneau upon the guests arrival. Travel south in Stephens Passage. Scan the mainland shoreline for Brown and Black Bear. Watch for Humpback whales and Orca's, as well as Dall's porpoise. Anchor tonight in Taku Harbor. Keep an eye on the beach for black bear. Loons often visit this area.


DAY 2
Taku Harbor to Tracy Arm No Name Cove
Travel the waters of Stephens Passage. Scan the mainland shoreline for Brown and Black Bear. Continue the watch for Humpback whales and Orca's and the first Icebergs. Travel the 25 miles up Tracy Arm Fjord. Abundant waterfalls, calving ice, steep, granite cliffs, harbor seals and mountain goats. Spend plenty of time at the glacier, return from Tracy Arm and anchor tonight in No Name Cove. This is an excellent place to kayak near (not too close, they sometimes roll!) icebergs.


DAY 3
No Name Cove to Pybus Bay
Travel south in Stephens Passage and into Frederick Sound and on to Pybus Bay with anchorage in Cannery Cove. This is a good place to tender and kayak up the estuary and river at high tide, watching brown bear fish and feed in the river (seasonally). Before heading into Pybus we may also consider passing near the southernmost point of the Brothers Islands to see if the Stellar sea lions are hauled out. This area is where we sometimes see the unbelievable spectacle of bubble net feeding humpback whales.
DAY 4
Pybus Bay to Red Bluff Bay
Cruise Frederick Sound and in to Chatham Strait on to Red Bluff Bay. This area contains one of the highest concentrations of Humpback Whales on the planet. Excellent shrimping and kayaking in one of Southeast Alaska's most scenic bays.
DAY 5
Red Bluff Bay to Takatz Bay with a stop at Baranof Warm Springs
Cruise North in Chatham Strait with a refreshing stop at the stunning river side Baranof Warm Springs. Continue on to Takatz Bay for overnight anchorage. Put out the crab pots. Another great place to kayak and view Brown Bear.


DAY 6
Takatz Bay to Douglas Cove Hoonah Sound
Cruise north Chatham Strait and into Peril Strait. Good water for Orcas and Dalls porpoise. A great area for shrimping, crabbing and exploring by tender.


DAY 7
Hoonah Sound to Sitka
Transit Peril Straits and Sergius Narrows to the historic Russian Heritage town of Sitka. Explore the town.


DAY 8
Enjoy an early breakfast and consider more exploring of Sitka prior to departure.


---

Not to be used for navigation purposes. This itinerary is considered proprietary and is for planning for potential Motor Yacht Reflections charter opportunities only.