ACCOMMODATIONS

6 Guests in 3 Guest Staterooms
A. Master Stateroom with Queen bed and private ensuite bathroom.
B. 2 Staterooms, each with twin side-by-side single beds.
The two "twin bed" staterooms share a bathroom off the hall.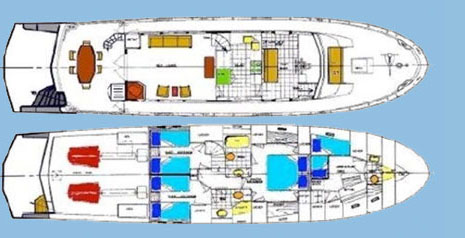 ---


RATES

A week of 7 24-hour days and nights, sometimes called "8 days / 7 nights" is:

$32,700 for 1-4 guests
$36,250 for 5 guests
$39,800 for 6 guests


A VIAGGIO charter is as "all-inclusive" as laws permit. Rates include:

72' Yacht VIAGGIO
27' Tiara Sport Boat with fishing for salmon and halibut
23' Custom Jet boat with 225hp outboard - Stikine trip and Steelhead trips
15' Alumaweld with 40hp 4 stroke outboard with tiller handle and jet drive for close access
Your Meals (customized to your preferences)
Beverages (non alcoholic and house wines and beers)
Generator fuel
Tender fuel (up to 140 gallons)
Yacht fuel for cruising at 10 knots for up to 8 hours per day averaged over the charter
3 Crew (Captain, Chef & Deckhand)
Sport Fishing Licenses
All Applicable Taxes
A 10% crew gratuity

Optional items not included:

Hard liquor (This is due to Alaska state law. You stop by the liquor store on the way to VIAGGIO to buy your own spirits and mixers).
A scenic seaplane or helicopter flight is a wonderful, highly recommended experience. Trig can call in a private charter for you, or there are scheduled "join a group" flights you can choose "by the seat."
Any additional fuel
An additional crew gratuity at your discretion. Gratuities are a personal matter and this is optional, but I suggest an additional 5% or more for an "outstanding" experience.

Charters start and end at the same hour but it is your choice; ideally between 10 a.m. and 4 p.m.



---


FISHING

VIAGGIO tows a 27' Tiara sport boat tender for salmon and halibut fishing and fast adventures. This sport boat is a "game changer" for charters in SE Alaska.


KAYAKS

VIAGGIO has very high quality kayaks: 2 are 2-person, and 2 are 1-person, for a total of 6 guests in 4 kayaks. Trig follows in the Tiara or Boston Whaler boat for safety and support if needed.



---


CREW

Captain Trig, owner-operator of VIAGGIO, has a vast array of experience as professional yacht crew in SE Alaska over the last 10 years. Averaging 9,000 nautical miles per year in Alaska alone, Trig can confidently say they know the area and can maximize their guests' experiences. Trig has also built important relationships throughout the area which allow them inside information about fishing, whales, bears and other areas of interest.

Captain Trig prides himself on providing an intimate experience afforded by finding out of the way harbors and anchorages. Having travelled the area extensively, he has some favorites that he always tries to stop into.

Trig is joined by 2 crew members.