---

CREW OF 3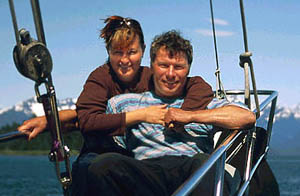 Owner-operator Captain Eric Boyum has been exploring and working on the coasts of B.C., Alaska, the Caribbean, and the Sea of Cortez for over 30 years. As Captain, Eric is certified by Transport Canada.

As a professional firefighter for over 20 years, and now serving as an officer, Eric is also trained in commanding emergency scenes, advanced first aid and CPR, and many kinds of technical rescues. With these qualifications and experience and his Wilderness First Aid training, our guests feel an added confidence when traveling with us.

Eric is a founding member of the B.C. Commercial Bear Viewing Association, formed to set standards for ethical bear viewing by commercial operators. As a fully certified bear guide, Eric has high standards for bear and wildlife viewing. All of our bear viewing departures or trips where we could encounter bears are led by Eric or occasionally other certified bear guides. Before guests go ashore for the first time where there may be bears, Eric briefs everyone on his best practices for bear viewing. With your group of no more than 6 guests, our guides provide the highest level of safety while having the least impact on the lands we visit and the animals we view - something that is extremely important to us. Small groups also ensure a more intimate experience for guests and unparalleled opportunities for photographers.

Eric personally leading charters ensures that his high standards are always met. His vast knowledge of the natural and cultural histories of our coast, his passion for the coast and its wildlife, and his great sense of humor keep guests coming back. Aboard or ashore in B.C.'s most remote and spectacular locations, Eric is a superb leader.
Chef Trish Boyum is Eric's long time partner and wife. After growing up on cattle ranches in B.C.'s interior, Trish now calls the coast her home. She is passionate about the preservation of coastal wildlife and rainforests. Her mother believed in lots of good, fresh food, and Trish is inspired by her example. Trish prepares a wide vareity of cuisine with the freshest ingredients - grown naturally or organically, in season, and locally as much as possible. Her on board organic herb garden, the pairing of British Columbia VQA wines with dinner, and the chocolates... ahh yes, the chocolates, provide some of the unexpected luxuries Trish loves to surprise guests with while traveling in B.C.'s most remote wilderness.

Eric and Trish are joined by a third Crew Person. They write, "We feel fortunate to have a great group of people who return each year as Crew Person. Each of these amazing people bring their own expertise to our trips and all are committed to exceeding guests expectations with their work ethic, enthusiasm and sensitivity to our guests."


---

YACHT DETAILS

Guests can lounge in the spacious comfort of the salon and galley area, as spectacular scenery passes by. The large windows of the salon and galley area allow uninterrupted views. A large, cozy couch is perfect for sitting, reading or a siesta. Across from the couch, an L shaped seating area with a table offers a spot to download your latest photographs onto your laptop, play cards, or just have a cup of tea and a cookie. Across from the galley area is a buffet including a selection of teas, coffee, hot chocolate, a large bowl of fruit, granola bars and home made baked treats - help yourself whenever you like.

Guests love dining in the "revolving restaurant" - sitting at the dining table in the pilothouse - as the boat turns in the tide at anchor, or as we travel during the day. There are almost 360- degree views from the dining table. As we travel, guests are welcome to join Captain Eric in the pilothouse for briefings on points of interest, wildlife sightings, navigation instruction, or even take a turn at the wheel. Whether it's getting involved in the ship's steering and navigation or just sitting with a cup of coffee, a freshly baked treat, and a good book, guests love spending time in the pilothouse.

Outside on the foredeck there is a long, cushioned settee for sitting, relaxing and taking in the scenery, and plenty of additional room for photographers to set up their tripods. The aft deck, the entrance to the ship, is covered, which gives us space to hang outdoor gear, stow rubber boots and Chef Trish's organic herb garden.

Guests enjoy private accommodation in two private staterooms., plus a single berth in the pilothouse which closes off from the rest of the ship at night. Each of the staterooms on board is well appointed with beautifully made beds, complete with duvets, pillows and linens. Large, fluffy towels, facecloths, special reading materials and chocolates also await our guests. The private staterooms and many amenities are often said by our guests to "have exceeded their expectations."

There are two full bathrooms on board, each with their own shower and electric flushing toilets. Fresh hand towels are put out each day and complimentary natural personal care products are provided in each of the on board bathrooms.

Great Bear II's galley is Chef Trish's pride and joy, with a four burner cook top, full sized oven, dishwasher, microwave oven and food processors. There's plenty of space for crew and for you to sit and visit while your next extravaganza is being prepared. Trish is diligent in the cleanliness of the galley and the safe preparation and storage of all food.

We tow our 16 foot hard bottomed zodiac that we use for shoreline explorations and excursions ashore. We also carry one double and two single kayaks for our guests to use to explore and enjoy the serenity of our anchorages. For trips ashore onto estuaries, tidal flats and creeks, we supply our guests with hip/chest waders. Fishing-gear on board includes fishing rods, crab traps and prawn traps. We welcome guests to try their hand at supplying 'the catch of the day' - to be prepared by our chef. Guests who would like to fish purchase fishing licenses before boarding. Guests do not take their catch home.

All in all, there is plenty of room on board for guests and crew to enjoy each other's company or for guests to enjoy some solitude in a private spot. With the spacious layout, we invite you to enjoy exceptional privacy, comfort, and personalized service as you experience British Columbia's most remote and spectacular settings.